Main House and Casa da Eira:
7 standard rooms with private bathroom
2 special rooms with private bathroom and balcony
air conditioning
living room
games room
Cottage Houses:
2 Villas with 2 bedrooms
1 Villa with one bedroom
air conditioning
games room
Leasure:
exterior swimming-pool
interior swimming-pool
turkish bath
gymn
open air games field: tennis or football
table tennis
kindergarden
pool
BTT
Amenities:
reception (open from 8am to 11pm)
breakfast service
daily cleaning service
car parking
fibre television
Wi-Fi throughout the resourt

Quinta Vale do Homem has implemented all the security criteria related to the outbreak of the coronavirus COVID-19. From the training of our staff to the hygienic care in all rooms and all areas, limited use of the breakfast room, among others.
Testimonials
Catarina
João
Foi com enorme surpresa que descobrimos este espaço maravilhoso, de uma beleza sem igual, mas de uma simpatia ainda mais superior. São umas meninas maravilhosas, incanssáveis que tudo fizeram de tudo para que nossa estadia fosse 5 estrelas. Muito obrigado por tudo, iremos voltar de certeza, e certamente daremos a conhecer aos outros este espaço que já ganhou um lugar especial para nós. Obrigado por tudo.
Ricardo
Optimos acomodamentos e local bastante sossegado e acolhedor A quinta conta com diversas atividades, e ainda assim, perto do centro de Braga. Climatização excelente nos interiores dos edificios. A regressar no verão para experimentar a piscina exterior.
João, Luis, Maria do Carmo e Fernanda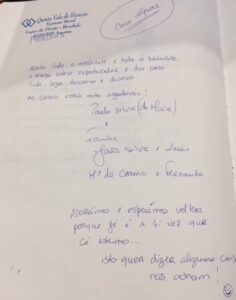 Isabel e Jose
Tânia
Adoramos tudo desde o local ate ao serviços de muita qualidade e muita simpatia. Recomendo a quem gosta de ser bem acolhido E a quem gosta de turismo rural um local ótimo.
Patrícia, Luis Vasco e Peter
Dosorio
Pequeno almoço era simples mas muito bom. A quinta é um paraíso...
Maria
Adorei tudo!!! Os espaços exteriores são muito bonitos e bem tratados! Mergulhar na piscina de água aquecida é um verdadeiro momento de prazer. O pequeno almoço é ótimo, o ambiente dos quartos e salas comuns muito acolhedor e as funcionárias são sempre disponíveis e bem dispostas.
Siliana e David
Um local calmo, sereno, ideal para um retiro em paz. Os espaços verdes dão uma certa tranquilidade que nos faz "desligar" da vida profissional que estamos habituados a ter no nosso dia-a-dia. O nosso muito obrigado a todo o staff que compõem esta excelente casa, em particular a D. Dulce.